- Edward Steichen. MELPOMENE - Landon Rives. 1904-05. Gum bichromate over platinum print
This photo of amateur photographer/painter/sometimes socialite, Sarah Landon Rives (born 1874, which makes her around 30 in the above and below portraits) of Virginia has always haunted me. It's Melpomene, originally the Muse of Singing, who evolved into the Muse of Tragedy. I went hunting to see if I could find out anything of interest, and I did, a bit.
She was photographed in startlingly modern fashion by both Steichen and Coburn (below)  - and her image, which I assume to be something she chose, given the fact that she hired Coburn to set up a darkroom at her home, was completely contradictory to the typical Gibson girl look. In  both these portraits, she looks directly and unromantically at the camera. These were taken the year after her father, Alfred Landon Rives (a Confederate engineer) died. She seems never to have married.
She and her sister were the last of the Rives family to inhabit Castle Hill, their Virginia plantation.  Amélie Rives Troubetzkoy (a novelist, poet and playwright who wrote 24 books, Broadway plays, an erotic novel called The Quick and the Dead? which was about the hot passions of a new widow) had an extremely colorful life of her own, which included her second husband, the penniless and possibly not really a prince Prince Troubetzkoy being introduced to her by Oscar Wilde  - um, goddamn. I knew nothing about her til this research wander, but she's pretty unapologetically wild herself.  See: The Temptress of Castle Hill and here, Francine Prose reviewing a book about Amelie and Archie Chandler, Amelie's first husband and a scion of the Astor family, because why not. Amelie was married several times, and did really kind of whatever she wanted to do. 
Then look at this photo of her younger sister, because. Well. 
,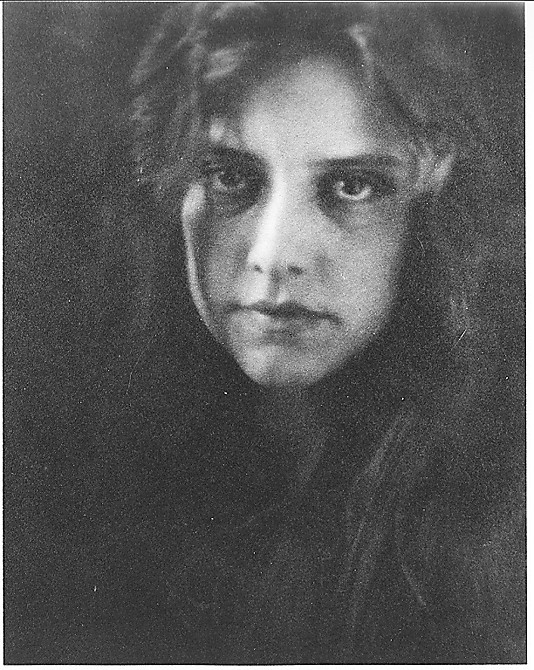 -Alvin Langdon Coburn, Study: Miss R. 1904. Gum bichromate over platinum print
"The portrait's subject, Sarah "Landon" Rives, presented a singular challenge to Coburn, whom she hired to set up a darkroom on the grounds of her historic plantation home of Castle Hill, in Virginia. Her gaunt face, tousled hair, and uncompromising stare emerge from the dark ochres of the pigmented print, intent on countering the vestigial ideal of passive femininity so common in the concoctions of Pictorialist photographers of the day."

(Metropolitan Museum of Art, Alfred Steiglitz Collection, 1933.)
A more typical portrait of Landon Rives:
And another:
Frances Benjamin Johnston, Landon Rives.
And see this: a self-portrait of Amelie Rives. Because, damn. Kind of irresistible, but absolutely the opposite sort of siren. She apparently made copies of this and gave them out. 
corpuscle-islands reblogged this from mariadahvanaheadley