-Unknown Photographer (I wish I knew, but I can't seem to find it.) Holi celebration.
Whenever I feel sad, I search for photos of Holi, the Indian festival of colors, to welcome the spring. I wish all things looked like this. There can be no more beautiful festival.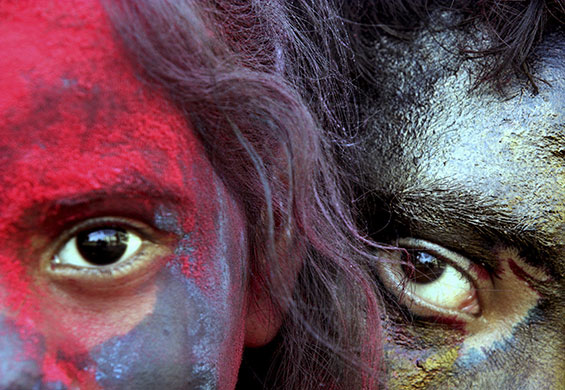 - Sucheta Das, 2010
And now for an opposite, though a reasonable visual link. Looked at together - the gleeful explosion of colored powder above, the painted faces - and the reverse-saturated images below of the Congo, in which the landscape is saturated and the people are not - this is kind of wonderful. Both ends of the spectrum of experience, literally. Religious ecstasy, and warfare. Rapture and violence. 
- Richard Mosse, Congo, 2011 (Infrared film.)
Mosse's work is quite different from the first Holi photo above (which I stole from some smart commenter on his Facebook page) - he uses infrared film to photograph war zones - foliage reflects the color. The film was originally used as surveillance tool - humans don't turn pink. The leaves they might be concealed in, do. I fucking love his photos.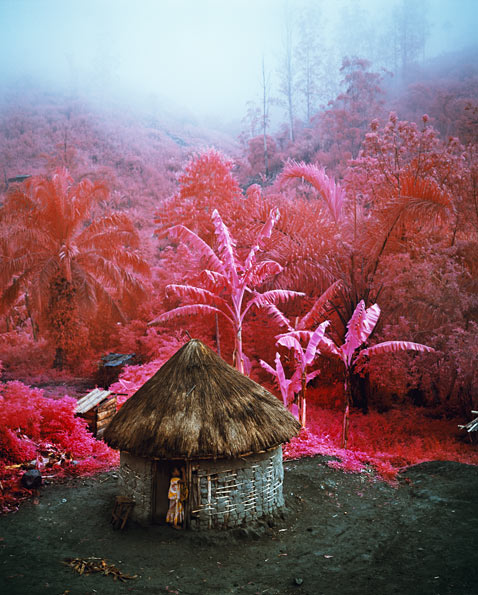 - Richard Mosse, Come Out (1966) II, 2011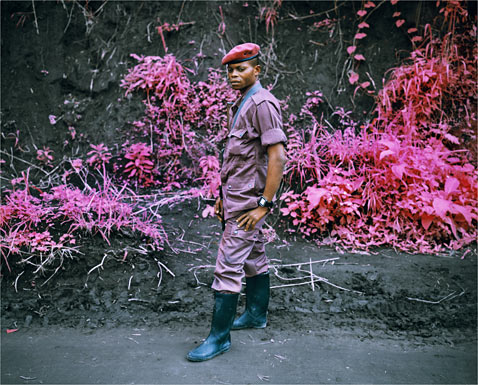 - Richard Mosse, General Février, 2010
Violence and beauty crushed together into the same frame. No surprise that I like these. Complicated world. And if I'm a good writer, I remember that. God is not only in the details but in the way a good piece of writing can make something within it stand out against a landscape where in life we might have missed it. Writing is like using infrared film, or throwing colored powder on a character. Look at this! 
See also, Pale Blue For I Am Lonely; The Child is Born Speaking the Language of Birds
arosu-sama reblogged this from mariadahvanaheadley and added:

… Pink is my favorite color…